Richard Wright, one of the founding members of Pink Floyd and keyboardist of the group, died Monday at the age of 65, following a cancer. Born in London on July 28, 1943, he met Roger Waters and Nick Mason on the benches of the School of Architecture and joined their group at the time, Sigma 6, later renamed Pink Floyd in 1965.
And with these words I can see
Clear through the clouds that covered me
Just give it time then speak my name
Now we can hear ourselves again …

– Wearing The Inside Out –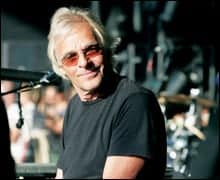 He had composed and sung on several albums of the band as Dark Side of the Moon and Wish You Were Here. He had made his first solo album, Wet Dream in 1978 then left Pink Floyd just after the recording of the album The Wallin 1979 because of his stormy relationship with Roger Waters but continued to perform on stage with the band in 1980 and 1981.
Since the band split, he had remained faithful to guitarist David Gilmour, whom he accompanied on tour. He had also found Pink Floyd for a concert last year in tribute to Syd Barrett, who died in 2006.
Shine on you crazy diamond.
Related