Copyright Victor Chalfant
Hello Ryan and Tommy! We already asked Nita to tell us about her arrival in the group in a previous interview, so we will ask you the same question. Can you tell us about your respective beginnings in the group?
Ryan Roxie: My favorite part of our respective itineraries is the story of Tommy, because he was part of the Alice Cooper adventure long before joining the group! Tommy drove our bus for a short time in the 90s and went from being a driver to a studio musician until finally joining the band on stage! It's really a fairy tale isn't it? It happened in a much more traditional way for me. I participated in an audition in which I was in competition with quite a few other guitarists in 1996. The purpose of this audition was to hire two guitarists for a year-long tour. There were plenty of shredders like the guitarist from Dream Theater as well as Warren DeMartini and Reb Beach, the latter picking up one of the two positions. Aware that Alice already had a shredder with Reb Beach, I told myself that he was probably going to need a more rock'n'roll guitarist for the other position to be filled. I imagine that I was the guy with the most rock n'roll game that day because I was hired following this audition. The very first concert I played with Alice was at Cabo San Lucas in Mexico (Editor's note: June 2, 1996 at Samo Hagar's Cabo Wabo with Slash and Rob Zombie as guests) and this concert gave rise to the live album "A Fistful of Alice" (1997)!
From this one-year tour, you finally kept your place until you became the member of the group who spent the most years with Alice!
Tommy Henriksen: It's not rather Chuck (editor's note: Garric, bass)?
Ryan Roxie: No, he's right, it's me. Chuck is the one who spent the most consecutive years in the group, because I left for a while, but cumulatively it is me the musician who spent the most time with Alice!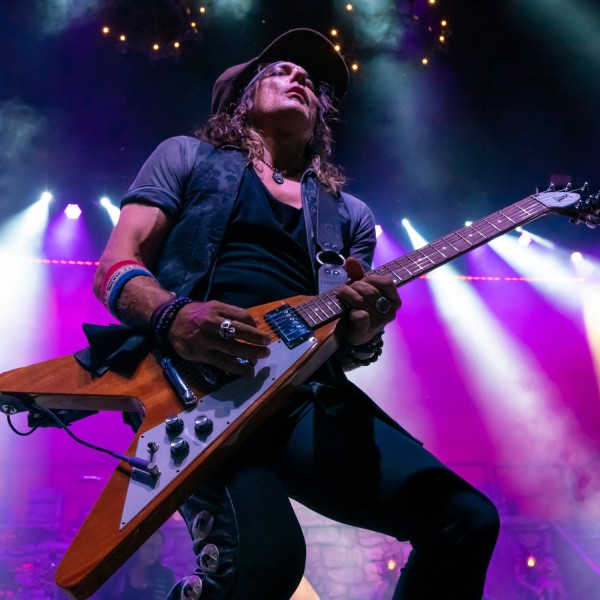 Copyright Victor Chalfant
Tommy, can you tell us how you started your studio collaboration with Alice?
Tommy Henriksen: I was the producer of a group called Still Standing and Calico (editor's note: Alice Cooper's daughter who is often part of the show on tour) was dating their guitarist at the time. They said to me one day: "Alice wants to come home to listen to what we do". So Alice came over and said, "I remember you! You were our driver at one time!". I didn't see him again until I moved to Nashville where I worked on lots of albums with Bob Ezrin (editor's note: historical producer of Alice Cooper, also known for his work with Pink Floyd and Kiss). Bob and Alice worked together again and that's how I got in the picture. Alice once asked Bob who the guitarist was playing on such and such a part in the studio and Bob told her it was me. Steve Hunter was back in the band for 2011, just before Ryan returned, and Alice needed another guitarist. He then offered to join live training. I asked him to give me some time to reflect because I was busy with my studio activities. I ended up coming back to him a month or two later, telling him I was ready to try.
Copyright Victor Chalfant
One can imagine that it was an opportunity difficult to refuse and at the same time it should not be obvious to compromise a perennial activity in studio to become musician of tour. The advantage is that Alice is on the road all the time, which is paradoxical for a 71-year-old musician!
Ryan Roxie: Alice is more active than most 40-year-old musicians! He turns more than any other group, despite all notions of age, because he wants to have work constantly. I joined the group in 1996 and I did lots of other projects alongside with Slash, Casablanca and other groups. So I understand this desire to always be busy and I can say that at least since 1996, Alice has never taken the slightest sabbatical year, he has gone on tour every year since. I challenge anyone to find any rock'n'roll artist who has kept the same pace over the same period.
Tommy Henriksen: Our tours are rather long too! Alice spends seven or eight months on the road each year.
Hello Nita! The live "A Paranormal Evening At The Olympia" (2018) recorded in Paris on December 7, 2017 is the first official release of Alice Cooper on which you appear. With the current line-up also on the stage, don't you also want to publish a live Blu-Ray / DVD?
Nita Strauss: First of all, even if it is "only" a live, I couldn't be happier to finally appear on an Alice disc! I would also love that we can make a new live video, it would be a real pleasure especially since the last live DVD of Alice Cooper (editor's note: "Raise The Dead: Live From Wacken") was released in 2014 in full during my debut in the group but it was captured in the summer of 2013 and I'm not on it (laughs)! I personally think the time has come for a new DVD and I know I can speak for each musician in the group. We would all be honored if Alice wanted to release a new live DVD with the current line-up. Recording with him in the studio would obviously be great, but we are above all Alice's live band and our mission is to ensure this task by giving the best of ourselves and it is he who then decides what he wants make his career. For our part, we just have to make sure to kick the public's bottom every night!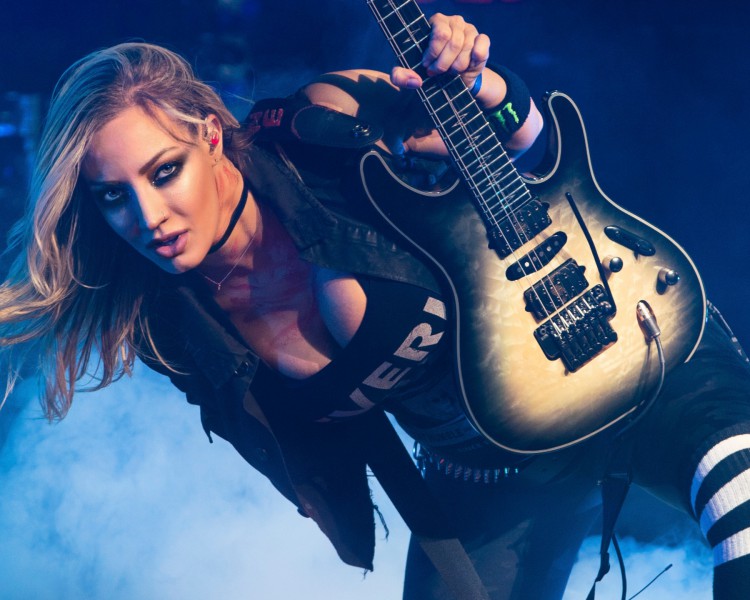 Copyright Victor Chalfant
An EP called "Breadcrumbs" (2019) was released recently. Tommy you are the last few years the only member of the group who also works in the studio with Alice. Are you playing on this EP?
Tommy Henriksen: No, not this time! This EP was made in Detroit only between guys from Detroit. I composed for the EP, in particular the title "Go Man Go", but I don't play on it. On guitar there are Wayne Kramer from MC5 and Mark Farner from Grand Funk Railroad and many other guys from Detroit including some musicians with whom Alice already played in the 70s.
Ryan Roxie: As for me, I can say that I contributed to it in a certain way because it contains the title "Detroit City 2020" which is none other than a new version of "Detroit City" (editor's note: title composed by Ryan and published in 2003 on the album "The Eyes Of Alice Cooper") with a new chorus and I find besides that they made a fantastic re-reading of this song which is in my opinion a postcard on Detroit. If you want to give a presentation on the city, an anthem for a local sports team or just want to make someone interested in Detroit, this song is a perfect soundtrack!
From the outside you can get the impression that your main influences are metal for Nita, classic-rock for Ryan and punk for Tommy. Is this an accurate observation and do you take this into account to know who is playing what live?
Tommy Henriksen: Yes I come from punk and rock too, but I will never be as good a rock n'roll guitarist as Ryan (laughs)!
Ryan Roxie: We just play rock n'roll and this musical genre integrates in my eyes metal, punk-rock and blues-rock. We make it a point of honor to faithfully return all the songs as they were recorded and our biggest challenge is to do justice to the spirit of origin of the different incarnations of Alice's group! There have been so many great guitarists in Alice Cooper, whether it's the original duo of Michael Bruce and Glen Buxton or even the other classic duo that formed Dick Wagner and Steve Hunter. We really do a lot of work to study the songs and soak up their soul. The current line-up is the one that has been together the longest since the original line-up and I'm pretty proud of that because Alice has played with a lot of excellent musicians in her career, but the current line-up is the only one that lasted as long as the very first training!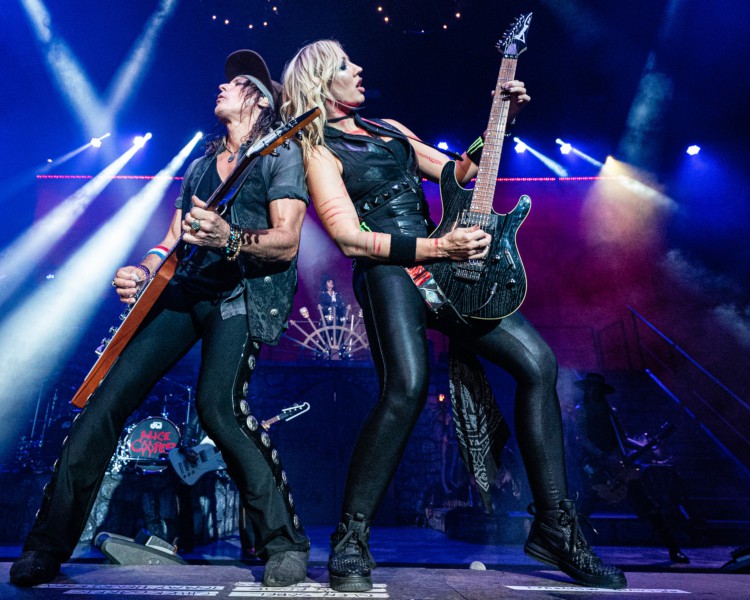 Copyright Victor Chalfant
How do you more precisely assign the different parts of the guitar to each, especially since you live far from each other (Editor's note: Ryan lives in Sweden, Tommy in Switzerland and Nita in Los Angeles)?
Tommy Henriksen: I'm in the same time zone as Ryan, that's already it (laughs)!
Ryan Roxie: New technologies help us a lot. We send videos to each other and if we see that one of us is playing a certain game, we will say to ourselves: so and so can play the other and so on.
Tommy Henriksen: But it comes very naturally in general. There are songs or specific parts where we know from the start if it is going to be for Nita or Ryan for example. We never get our heads around it actually, most things come naturally and there is never an ego struggle.
The setlist has evolved considerably since the last tour in 2017 and after the surprises of the time that were "The World Needs Guts" and "Pain", there are today even more rarities from the 80s period with "Bed Of Nails", "He's Back", "Roses On White Lace" and "Teenage Frankenstein". Nita, are you in the middle of this comeback of the shred / hard 80's era in the setlist as this repertoire seems to be tailor-made for you?
Nita Strauss: It is obviously not to displease me but I have absolutely nothing to do with it! The tour setlist is determined by Alice and Shep Gordon, his historical manager, the one who has been with him since the very beginning of his career, now 50 years ago. They are the only ones to decide on the setlist but I think the current line-up is perfectly suited to this kind of songs. They are undoubtedly aware of it and it is a choice which had to impose itself. "Poison" and "Feed My Frankenstein" are usually the only songs we play from this period and by adding the 4 songs you mentioned, it's now 6 songs from the 80s in the set and it's fun to play them especially since it had been ages since they had been performed on stage! You should know that Alice and her management really take into account the opinion of the fans. They read what is said on the different forums, they identify the "real" fans and are inspired by their wishes as for the songs they would like to see back on stage. You can never satisfy everyone, the perfect concert does not exist, but they try to get as close as possible to it and change the setlist on each tour.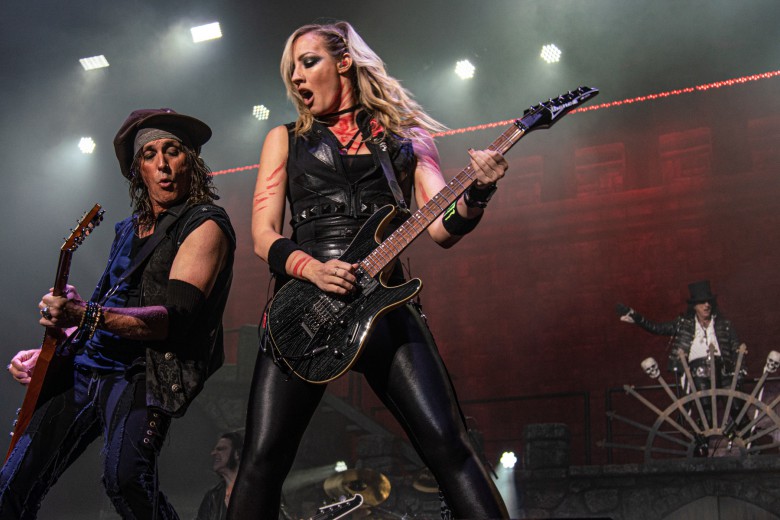 Copyright Victor Chalfant
To stay in this story of geographic remoteness and with a setlist that changes with each tour, how do you repeat?
Ryan Roxie: We don't have time to really rehearse, we do a lot of pre-production each on our own but the advantage of this line-up is that we play extremely well together. It would obviously be more comfortable to have more time to do real group rehearsals, but I think we are still doing a very good job! The setlist has indeed changed a lot between the last two tours. I had for example played "Bed Of Nails" only once before, it was in 2004 during a concert in Greece and the least we can say is that the public reacts very warmly to this title every night on the current tour! For my part I always have a weakness for songs with big classic-rock riffs because these are the ones that give me the most emotions live. I really feel a very special feeling when I play a classic riff like "School's Out" for example. This kind of riff triggers a lot of emotions and memories in you! There is a return of many 80's titles that had not been played for ages but there are also other 70's rarities on this tour like "Dead Babies", "My Stars" or "Muscle Of Love ". These songs are not classics per se, but I think people appreciate their musical qualities live.
Nita, you released your first solo album "Controlled Chaos" at the end of 2018. Was it intimidating to offer an instrumental album as a first effort?
Nita Strauss: Yes it was! If I had a singer, the songs would be boxed faster and I would be less exposed. I sometimes jealous of singer groups, like right now because I'm working on my second solo album and I would like so much that the songs were already finished. Instead, I'm going to have to put a whole bunch of solo on top now (laughs)! But I love instrumental music, that's what my heart tells me to do and I intend to continue on this path even if I must admit that at the beginning I did not think I had the level to make an instrumental album, because I place this type of album at the top of the hierarchy, but the fact of having responded to Steve Vai's request by composing the song "Pandemonium" was like a revelation for me! I had this lack of confidence in myself to offer this form of elaborate music but when Steve Vai, my absolute idol, asked me to provide him with an instrumental title for his label and then the reactions were very good with even radio passages in the key, something very rare for instrumental music, it boosted my confidence considerably and I realized then that I could do it! I wrote this album on tour and I recorded most of the parts in the different hotel rooms and lodges where I stayed. The only thing we did in a real studio was recording the drums. For the rest I always have my Pro-Tools in my backpack and I'm in the middle of creating a second instrumental album!
Ryan, you recently released a really effective and catchy solo album with "Imagine Your Reality" (2018). Can you tell us about it?
Ryan Roxie: I opted for a different approach with "Imagine Your Reality". I chose to release a long series of single to ensure continuous promotion and then make an album when all these singles formed a coherent whole. I always try to promote this album and give concerts to support it between Alice Cooper tours. It's a pure rock n'roll album totally turned on the guitar! My producers, and Tommy has produced several titles on it, said to me: "People know you for your position as guitarist of Alice Cooper, do not go looking for noon at 2:00 p.m., treat yourself and have a guitar max "! That's what I did !
The number 77 sticks to your skin. Where does this association with this number come from?
Ryan Roxie: It all started with a joke somehow because I wanted to find a signature that we remember for my autographs. I then started to sign "Ryan Roxie '77" to give a classic dimension to my signature (laughs)! The inspiration came to me when I was playing with Gilby Clarke in 1993. He was part of Guns N'Roses at the time and he signed these autographs by writing: "Gilby Clarke GN'R '93". Guns N'Roses was the biggest band on the planet and I found this signature so cool that it made me add a '77 behind my name to give it a classic side! I realized later that many of my favorite artists and albums appeared in 1977. If you do a search on 1977 in Google, you will realize that it is a year very important for music.
Tommy, you have worked with many different groups and artists and you can often read on the Internet that you have collaborated with Lady Gaga. Is it true ?
Tommy Henriksen: Yes, that's right. I worked on his first album … but it didn't last long because I was obviously not politically correct enough (laughs)!
Ryan Roxie: Tommy is not one to play the game and it is to his credit. He does his thing in his own way, whether it suits it or not, and you can clearly hear Tommy's influence on the new Hollywood album Vampires.
Can you tell us about "Rise" (2019) the second album from Hollywood Vampires, a group that you form with Alice Cooper, Joe Perry and Johnny Depp?
Tommy Henriksen: It's a really fun album and we had a lot of fun doing it! We all contributed to the album, including Alice and Joe, but the one who invested the most in the project is undoubtedly Johnny Depp. He wrote most of the music and lyrics and I produced the album. Let's say we both laid the main foundations for the album together and it's really easy to work with Johnny. Glen Sobel, our drummer in Alice Cooper, also plays on it and it's one of those albums where everything went quickly and very smoothly. It only took us 41 days to compose and record it. We did this at Johnny's. There are several houses on his property and one of them is his recording studio. Downstairs is Johnny's studio with a rehearsal room and a recording room and I have my own studio upstairs. The two of us kept talking all the time and this allowed us to provide a large amount of work in a very short time.
Most people don't know that Johnny Depp was a guitarist before becoming an actor, which couldn't be more logical given the success of his film career. Can you tell us about him as a musician?
Tommy Henriksen: He's really a great guitarist! I'm not saying this to flatter him but he can literally play whatever you ask him.
Ryan Roxie: I take this opportunity to say that most people do not know that I was an actor before being a guitarist … I did a play at school (general laughter)!
Tommy Henriksen: People don't know that music has always been Johnny's great passion and how much he loves it. He simply needed money at the time, Nicolas Cage advised him to go to a casting and the rest is history!
Ryan Roxie: I'm going to add something about Johnny. We regularly welcome guests on stage, usually very good guitarists who come to play "School's Out" at the end of the concert with us when they are in the same city. Johnny is clearly our best prepared guest. I imagine that it comes from his acting career, he has to prepare for music in the same way as he prepares for a role in a film. But when he joins us on stage, he really knows all the little nuances. I remember that the last time he played with us he knew all the parts of 7 or 8 songs from our set! Our guests usually know one or two parts but no more, and Alice Cooper's music is more complicated than it sounds. It's a lot more musical than you might think once you dissect the albums, there is a lot going on in terms of arrangements in particular.
To return to the workaholic side of Alice. He didn't have enough of his career, he had to add another group with Hollywood Vampires!
Tommy Henriksen: Yes indeed! We have also recorded the vast majority of the song "Rise" on tour and in hotel rooms. I prepare my laptop anywhere and then we go!
Ryan Roxie: We did the same for my solo album elsewhere. There are plenty of vocals and guitar tracks that we recorded in the hotel rooms on tour during our rest days and we kept most of these takes! The only thing we can't do on tour is to record Glen's drums. Finally I say that, he doesn't stop playing drums, even in his hotel room (laughs)!
Nita, the last time we met you at the end of 2017, you had to keep it secret for another month, until NAMM 2018, as for the release of your first signature guitar: the Ibanez Jiva 10 (editor's note: accompanied by NAMM 2020 by 2 other models: the Jiva X and the Jiva Junior). How does it feel to have your own signature guitar?
Nita Strauss: As everyone knows, I'm a huge fan of Ibanez! When the brand signed me in 2008, I was the only girl endorsed for the electric guitar, even if there were already a few women bass players in their roster. 10 years later, in 2018, I end up with the very first signature model that Ibanez realizes for a woman and I still can't believe it when I pronounce this sentence! It's really very special for me to follow in the footsteps of Steve Vai, Joe Satriani, Paul Gilbert, Herman Li and my other heroes and to be the first woman to do so. I know this has been said many times in this interview, but I am sincerely very honored and I hope I have opened a door for many other girls!
This Ibanez signature was also the occasion to unveil your first signature microphones: the Pandemoniums from DiMarzio. Can you tell us about these microphones?
Nita Strauss: Pandemonium pickups have a fairly high output level. It's a bit like the D Activator and the Evolution having a very noisy child together (laughs)! I've always loved the sound of the Evolution mic, but I find it generates too much noise. This is even more true for a guitarist with little experience, the Evolution is then quite difficult to control. I like the D Activator for its aggressive and brilliant side and also for the particular bite it has for playing metal, all without the slightest noise. If you play modern metal with choppy rhythms, you hear nothing between the notes, as if there was some kind of noise gate built into the microphone. I then asked Steve Blucher of DiMarzio if it was possible to combine the aggressive attack and the silent side of the D Activator with the more vocal side and the highest output level of the Evolution. There must have been nine or ten different versions of Pandemonium because I wanted to make sure that these microphones are perfect. We finally succeeded and we opted only for a neck version and an easel version. I play in HSH configuration, but we did not want to tackle a simple signature microphone because I find the True Velvet perfect and I did not see how we could achieve a better simple microphone. There's really nothing I want to change to a True Velvet and I wanted to offer the best possible pickups on my signature guitar.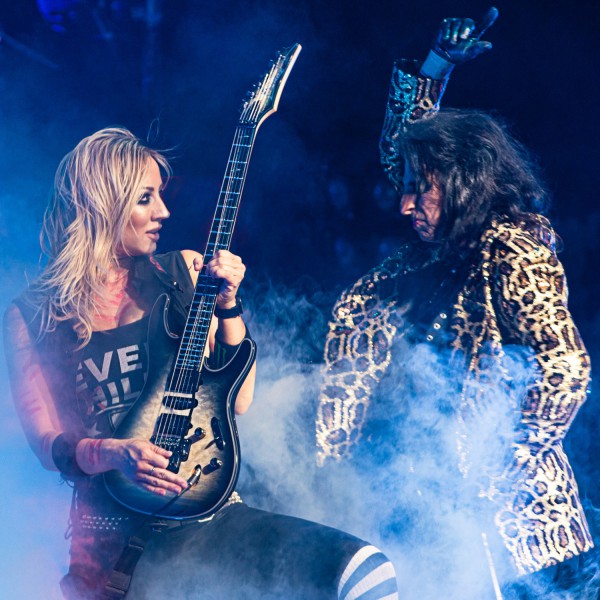 Copyright Victor Chalfant
All your guitars are in HSH configuration. What do you particularly like about this microphone configuration?
Nita Strauss: I really like this configuration and I also use the five possible positions during Alice Cooper's concerts. I even use positions 2 and 4, the central microphone combined with one of the two split humbuckers. On "Steven" for example, I have to play the piano melody transcribed on the guitar and the sound obtained by combining the simple microphone and the split neck pickup is perfect! I use all positions, just find the right time for each of them.
You are known to like very thin and flat neck profiles. Does Jiva have this kind of profile?
The Wizard 1991 profile is indeed my favorite! The profile of that of the Jiva 10 is close but it is not quite the same. It is a Nitro Wizard neck, the guitar being made in Indonesia, they cannot make a neck as thin as in the Japanese factory. Their machine is simply not capable of it. It is however a very thin handle but a little more rounded than what I used to use and I really like it because you have a better grip and sometimes the sleeves are a little too flat! I never thought to pronounce this sentence one day (laughs)! I usually always look for the thinnest and flatest neck profile possible but this little extra roundness is welcome when I play the Alice Cooper repertoire for which it is quite pleasant to have this better grip of the neck (Editor's note: We can assume that the Jiva X, produced in Japan and announced since our interview, will offer the Wizard '91 profile dear to Nita). For the rest it is a maple neck with ebony fingerboard and a mahogany body with a maple top. For the choice of finish with black and blonde as the color … just look at me to understand (laughs)! I just wanted a guitar that looks like me while being sober enough to be played by anyone.
Ryan and Tommy, you have a lot of guitars in a more traditional and vintage style. Are there any models you want to tell us about in particular?
Tommy Henriksen: My favorite guitar right now is my 1985 Gibson SG Custom in Ferrari Red color. It has three microphones, with a Tone Zone by DiMarzio as an easel and I installed an Evertune on it and it never goes out of tune. It's really a great guitar!
Ryan Roxie: I made sure to have colorful guitars on this tour because Alice wants us all to be dressed in black (laughs)! This contrast also greatly enhances the guitars on stage. I always like to take what I call "Gibson Big 6" on tour. So I have with me a Les Paul, an SG, an ES-335, a Flying V, an Explorer and a Firebird to which I add a Stratocaster from Palermo just to be complete!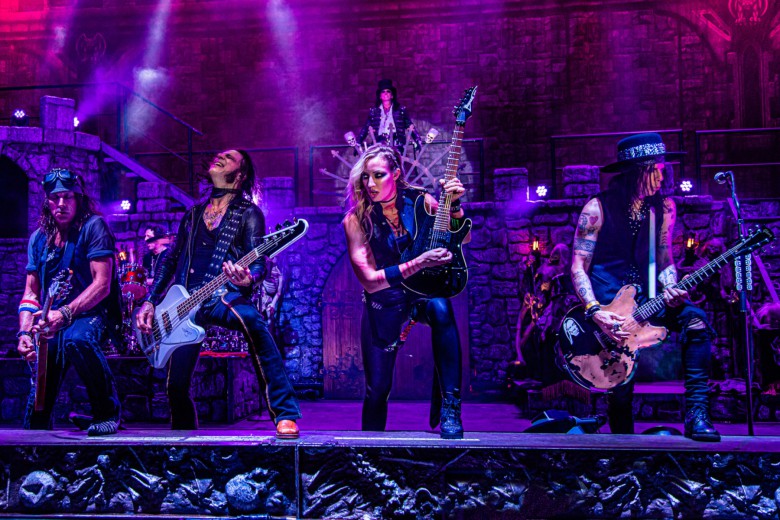 Copyright Victor Chalfant
Amplifier sound level, do you still use this variation of different Marshall eras?
Ryan Roxie: Yes we are die-hard fans of the Marshall sound! I always remain faithful to the sound of the JCM800 and the sound of the 80s while Tommy has the sound of the 90s and Nita that of the 2000s.
Tommy Henriksen: The JCM900 is simply my favorite amp! Nita plays on an HJS JVM. The three of us have very different sounds that complement each other well!