*** Rserv ****** Rserv ****** Rserv ****** Rserv ***
Hello
I am selling my Tte Kelt amplification YG-Max
KELT YG-MAX 100 / 50W head :
1190 euros
blameless condition
The package of photos on request
No exchange
In case I have 1 or 2 Kelt speakers that go with (see) for the price of the whole.
Came into the living room and hasn't moved a bit since then, no way out.
A lot of videos on the net (see official Kelt amplification website)
Kelt Amplification: https://www.keltamplification.com/
Currently, Trust, Axel Bauer,
the green negresses, Go no fanatic,
Yvan Guillevic, Julien Bitoun,
Arnaud Fradin (MALTED MILK),
Jean-Michel Kajdan and a bunch of others are currently playing on Kelt.
info from Thierry Labrouze:
General Information
The Ultimate KelT Amp !!!
Created in collaboration with guitarist Yvan Guillevic, the KelT YG-MAX is the basis for an amp designed, with and among others, the fabulous sounds of David Gilmour at the head. In fact, Yvan is at the helm of the famous Pink Floyd tribute band Empty Spaces, which this year turned ten years old.
So there were at least three nice constraints to the design of this amp:
ability to provide clear high level and high level sound, crystal clear and warm at the same time for beautiful thrs arpges, even with a drummer who sends loudly, on large stages
be a great pedal platform for very organic and varied saturated sounds
but also to be able to adapt to other musical genres because Yvan is a multi-faceted musician, also involved in other projects like Wired, more blues / rock and also in a very promising new soul & blues project with singer Anne Sorgues.
The result is a 100 W, two-channel head, extremely dynamic thanks to the use of huge power and output transformers, directly inspired by those found in Hiwatt DR103 amps dear to guitarist Pink Floyd. In fact, it is an amp that seems dedicated to the Fender Stratocaster (but not that !!!!!) so the sounds of the great players of Strat are under your fingers with this model. David Gilmour, Mark Knopfler, SRV, Jeff Beck Not bad !!!
The preamp incorporates the two channels that have proven themselves on the KelT V-MAX:
A clear, shiny, silky channel: The Bright Side. Mediums hollowed out like on a Twin Reverb. Combined with the dynamics of the transformers and the Hiwatt style power part, the mixture is explosive with clear and captivating power. Think Shine on Crazy Diamonds of course !!! Engage an overdrive and a phaser on the front You are in Have a cigar solo territory !!!
A clean / crunch channel: The Dark Side. Voluntarily dark, this channel inspired by the legendary Fender Tweed with its mouthful of mids, is perfect for the blues and turns out to be absolutely organic with a big fuzz or a good distortion. Think about the introduction of Sorrow You can mix the two pramp lamps of this channel, a 12AX7 and a less banal EF86, for an extremely rich result in its harmonic content.
This two-channel pramp, simple and intuitive to use, is beautifully complemented by a parallel effect loop (for total respect of the grain) with two settings: Send level and Wet / Dry balance. Reverb and Delay will naturally find their places there in the greatest transparency.
The four EL34s in the power section provide more than 100W to the speakers.
A Half Power switch, however, makes it possible to reduce this power to 50 W. The system used here is quite rarely encountered and yet very efficient and simple. There is no need to correct the output delay because the transformer always sees the same load. This also guarantees to keep the same sound spectrum whether in 100 or 50W.
On the other hand, the latest generation Master Volume still allows you to use this racing device in your living room. In fact despite its standard power reserve, this amp is capable of remaining surprisingly flexible.
The KelT YG-MAX will give its best connected two KelT 1×12 cabinets, one of which has been specially designed for this model. The Full Stack version is actually a real system that it would be a shame to dissociate:
The YG-MAX Twin Ported cabinet is equipped with a fabulous WGS 12L 200W speaker, an improved (and even more expensive) clone of the famous ElectroVoice EV-M 12L,
It will ideally be supplemented by the standard KelT 1X12 open cab cabinet mounted in WGS Veteran 30, which will in turn provide improved spatial distribution.
The quality of construction (Point To Point on golden turrets) as that of the components is extremely high on this amplifier thought for a professional use of high level.
As for the bnisteries, as for all KelT, they are made of teak with dovetail assemblies, the most noble and solid assembly in carpentry / bnisterie.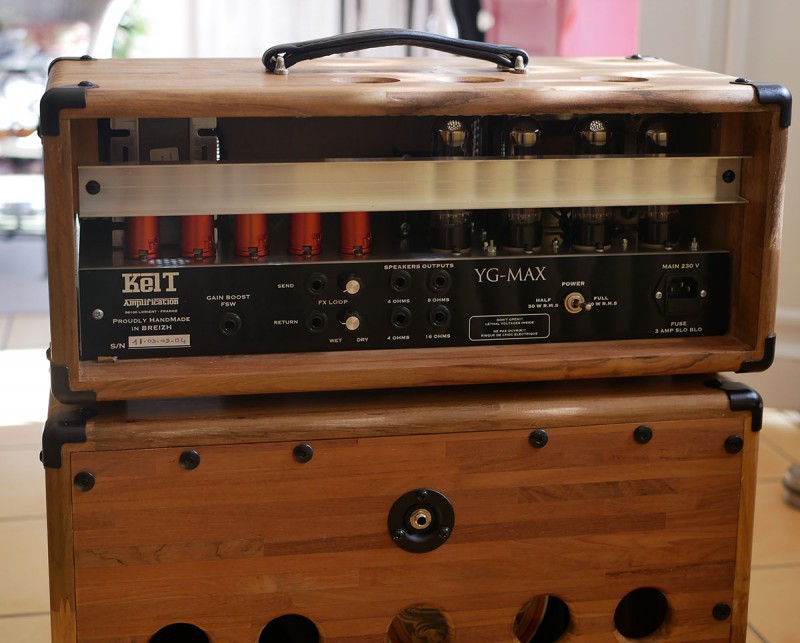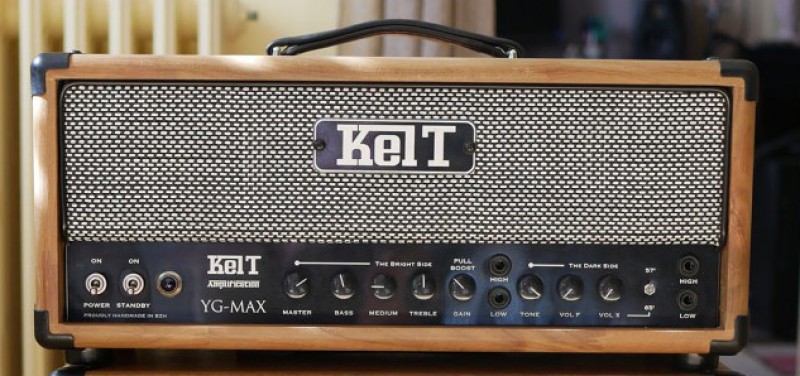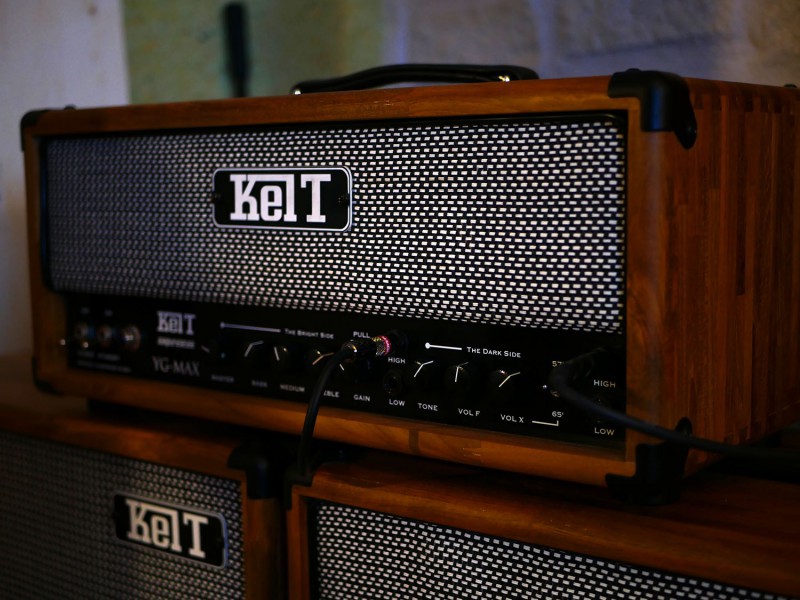 *** Reserve ***